As Dan Mitchell mentions in his post, much of the dysfunction we witness in healthcare are simply symptoms of the distortions that arise when we rely on a third-party payer system, with heavy government involvement, and all its perverse incentives which distort decision making for all participants. And so often the proposed "fixes" are aimed at mitigating symptoms caused by the third-party effect, rather than peeling back the layers to get to the root cause. Is it any wonder things aren't improving despite billions and billions of subsidies, massive intervention, regulations and various forms of scrutiny!
International Liberty
America's healthcare system is a mess, largely because government intervention (Medicare, Medicaid, Obamacare, and the tax code's healthcare exclusion) have produced a system where consumers almost never directly pay for their medical services.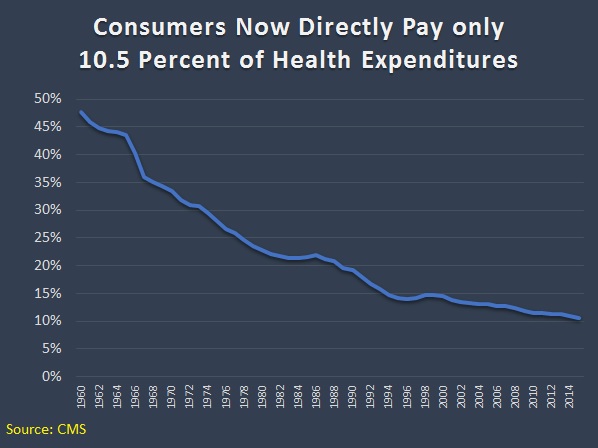 This "third-party payer" system basically means market forces are absent. Consumers have very little reason to focus on cost, after all, if taxpayers or insurance companies are picking up the tab for nearly 90 percent of expenses.
As a result, we get ever-higher prices.
But we also get a lot of featherbedding and inefficiency because providers want to take advantage of this system.
Athenahealth offered some sobering analysis on the system last year.
The number of physicians in the United States grew 150 percent between 1975 and 2010, roughly in keeping with population growth, while the number of healthcare administrators increased 3,200 percent for the same time period.
View original post 241 more words